Please stop. You are making me feel hopelessly inadequate. Crafting is now so cool and hip and edgy, those of us who don't have an Etsy shop are feeling like the kids who always wore the wrong brand of shoes to school.

I knit, I crochet, and I can make a scarf. You knit and crochet and make cutsie tiny animals. I can't even pronounce amigurumi.

I quilt, and make nice, basic bed coverings. You quilt and make works of art that I can't even conceive of.

You do-it-yourselfers are fearlessly painting and making mosaics and etching and throwing pots. I once tried to put up a garland around my dining room for Christmas. I had a glue gun in one hand and a staple gun in the other. When the ladder fell I threw my back out. My kids learned some new words that day.

I scoffed when the scrapbook craze began. "Grown women! Playing with stickers!" I don't laugh any more. Scrapbooking is so fantastically creative and complex I know I could never do it.

But really, if there is one person who must be stopped, it is you, Mary Engelbreit. I used to love your eclectic mix of soft colors and funky flea-market decor. You featured artists who painted and strung beads and had lovely inviting studios. I was so inspired. Now your magazine frightens me. It's just too -- creative.

I must be old. I can't keep up. I have been left in the dust.

Call me when simple retro craftiness comes back in style. I'll be over here making yo-yos.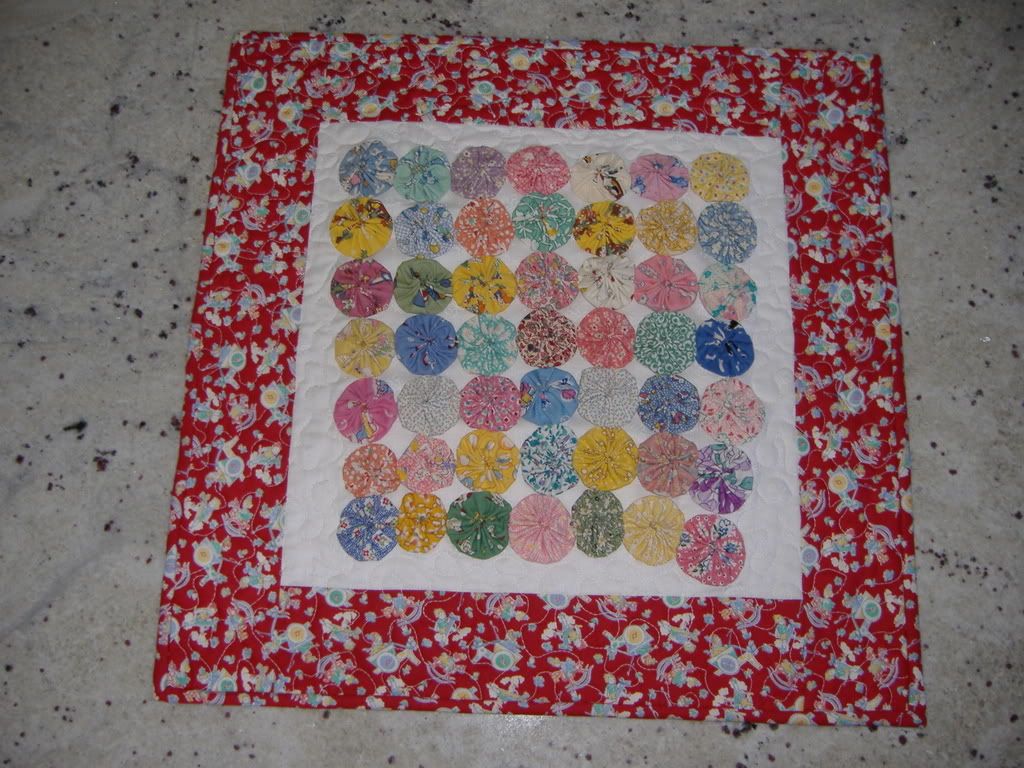 (Wasabi Girl made a bunch of the yo-yos on here. They turned out different sizes, so it's a bit wonky. I love it because of its imperfections.)