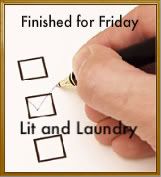 Welcome to the first Finished for Friday for 2009! Today my show and tell consists of the new blog layout. Seemed like a simple idea at the time but I've learned that it can take a while to switch over. An entire day to be exact, and at least one thing still doesn't work right. Thank you to
Cheri
for kindly emailing me and letting me know when the comments section wasn't working.
I've also made a button for Finished for Friday. You can grab the code from the sidebar and paste it into your post or your blog to show you're playing along. Many thanks to
zakka life
for the tutorial on creating a button! I never could have figured this stuff out on my own.
So join in if you've kept up with a resolution, cleaned up your decorations, or gotten something done this week. Thanks for playing along! I'm working on a giveaway that I'm going to offer to future Finished for Friday participants, so stay tuned!