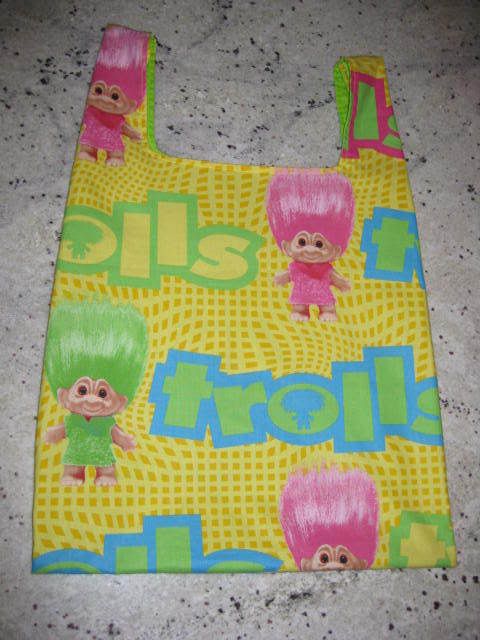 Celebrate your love for craziness and vintage toys with a pair of these handmade Troll totebags. I will be giving away a pair of these beauties on Friday, August 1. To enter to win, simply leave a comment on this post by Midnight Thursday. I'll draw the winner Friday morning and mail them off. If you do not have a blog, please give me an email to reach you.
Think of all the fabulous uses for these tote bags!
Use them instead of plastic grocery bags. They're more sanitary than store-issue "green" bags because you can toss them in the wash. They're also stronger -- wont rip no matter how big a bag of kitty litter you need.

Use them to pick up toys around the house to put in "clutter jail!"
Take them to the pool or the beach
Give them to your kids

Stash your knitting

Use one for lit and (wait for it). . .one for laundry!
These handy totes fold into themselves so you can tuck them in your purse and use one anytime. I used a Target bag as a pattern, so they're a great roomy size.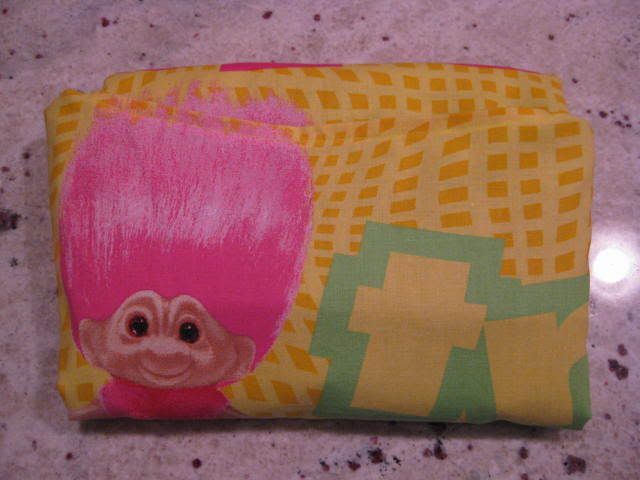 Just leave a comment on this post. You may enter once per day through Thursday at midnight Pacific time. I'll announce the winner Friday August 1.