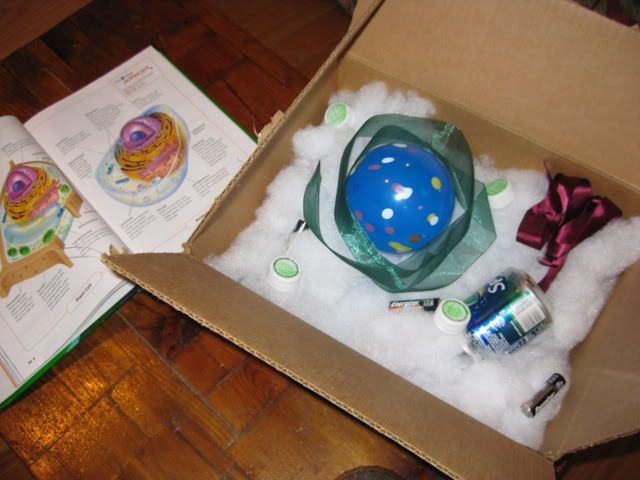 "Mom! Can I have some of that fluffy stuff you stuff animals with?"
"Fiberfill?"
"Yeah, that stuff, can I have a bunch?"
"Um, ok, Drama Girl, let me go get a bag for you.
"Thanks, it's going to be cytoplasm. Can I have some ribbon?"
"What for?"
"Endoplasmic Reticulum."
"You're kidding. I learned about that in college. What else do you need?"
"Um, Chloroplasts. I'll use bottle caps and color them green. And a big storage container for the vacuole - how about an empty can?"
"You've got to be kidding. You're making a cell? When is this due?"
"Tomorrow morning."
"Figures.
"I need some more ribbon for the golgi body."
"Of course you do. What are you doing with those old batteries?
"Mitochondria mom. Duh."
"Obviously."

I particularly like the balloon with dots on it that she's using for the nucleus. School's back in session - bring on the science projects.