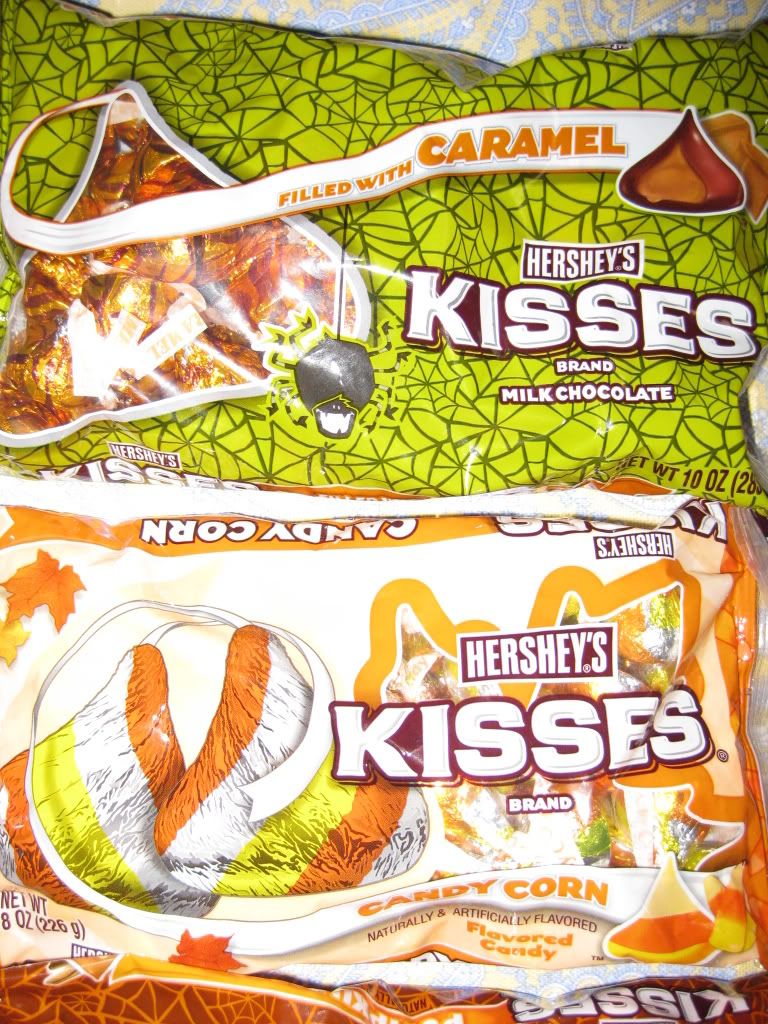 In order to assist you, the blogging community, in the selection of fine candy for your Autumn and Halloween pleasure, I hereby present the official results of the great Hershey's Kiss taste test, as performed by my children and tabulated by me.

The contenders:

Caramel kisses
Candy corn kisses
Pumpkin spice kisses

Cherry cordial kisses
Special dark chocolate kisses
Hugs
Almond kisses
Milk chocolate kisses
The experimental conditions:
Single-blind trial, prepared by me. Subjects were given unwrapped kisses coded by letter, and instructed to silently answer three questions for each. Choice of milk or water was provided to cleanse the palate between tastings.
Flavor 1-5; 1 being barfy, 5 being "mom please buy lots of these"
What do you think the name of this flavor is?
Comments
The Results
A. Hershey's kisses filled with caramel
Average grade for flavor: 5
Name guesses: "basic kiss" "caramel chocolate" and "caramel-filled chocolate jumbo kisses"
Comments: "I think the middle tastes different. It is sort of creamier." "It's delicious and I love the middle."
My thoughts: I can't believe Jungle Boy thought this was a regular kiss. And he hates caramel usually, but loved these. Go figure.

B. Candy Corn flavor
Average grade for flavor: 4.67
Name guesses: "Candy corn (2)" "Halloween kiss"
Comments: "It's delicious and I love the flavor." "I think they are good but they would be really good for Halloween."
My thoughts: Waxy, but definite candy corn taste. Fun.

C. Pumpkin Spice
Average grade for flavor: 3
Name guesses: "Cinnamon" "Peanut caramel kiss" "Cinnamon cream"
Comments: It's really yummy and it gives a feel of Christmas." "These are ok but I might like them some times more than others."
My thoughts: I love these, but I can see why the kids aren't crazy about them. Perfect for Thanksgiving.

D. Cherry Cordial
Average grade for flavor: 4
Name guesses: "Pez candy" "Milk chocolate kiss" "Strawberry filling"
Comments: "I love how it's sweet like candy but at the same time chocolatly" " I think they are a little sweet but they are good for the holidays."
My thoughts: I was expecting cough-syrup flavor, but they're actually pretty good. Definitely very sweet though, as the kids said. Probably perfect for SAHM's who sit around all day watching soap operas.

E. Special Dark Chocolate
Average grade for flavor: 4.41 (Drama Girl stopped using round numbers)
Name guesses: "Dark Chocolate" "Hot chocolate"
Comments: "Even though they are simple with nothing special, but I think they are great." "Delicious."
My thoughts: Not as rich as some dark chocolates. Good though.

F. Hugs
Average grade for flavor: 4
Name guesses: "White chocolate" "White and dark chocolate swirl" "zebra stripes and cow poop in the middle"
Comments: "Sooooo good" "It was kind of bland for me but I wouldn't mind if other people like it."
My thoughts: Not my favorite.

G. Hershey kisses with Almonds
Average grade for flavor: 4.08
Name guesses: "Almonds (2)" "Marshmallows and nuts"
Comments: "Yummy to the tummy" "I think it was really smart to put an almond and I like it."
My thoughts: fun to watch Drama Girl make a face and spit it out. I guess you have to like almonds.

H. Milk chocolate Hershey's Kisses
Average grade for flavor: 4
Name guesses: "Chocolate kiss" "Dark Chocolate" "Awful" (I think Drama Girl had had enough chocolate at this point).
Comments: " I think they were good, and these are probably the cheapest because they are so plain but good." "I love it."
My thoughts: The original and still the best.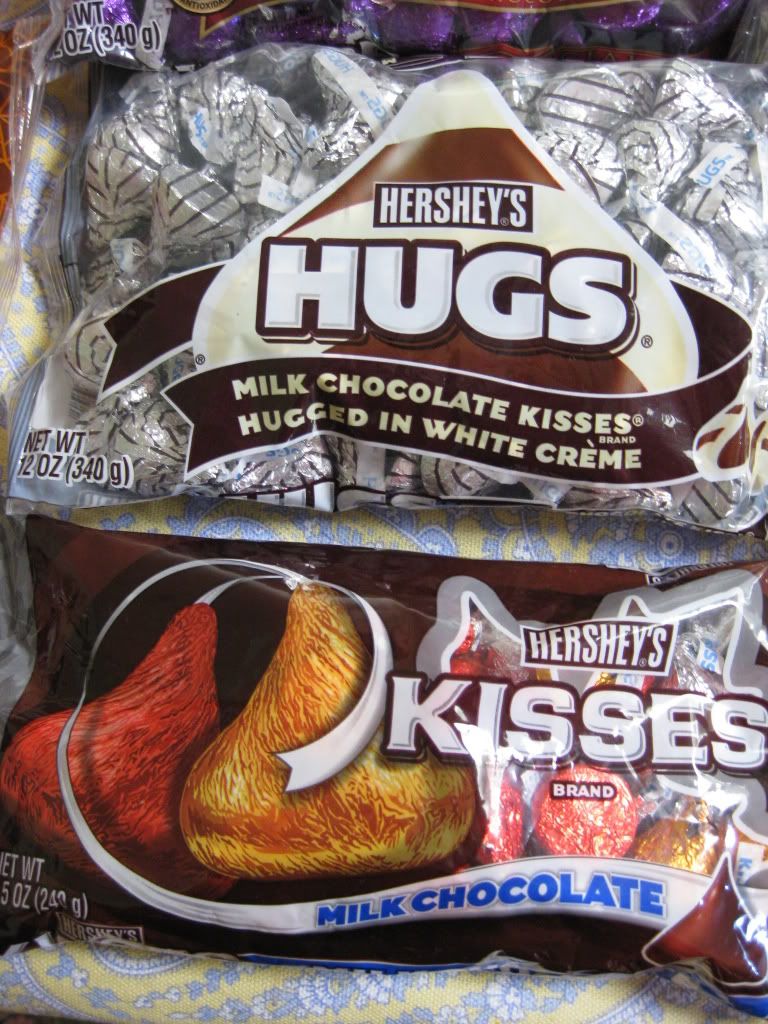 So there you are, with the final word on each type of Hershey's kiss. I know that you, the demanding candy consumer, will probably print this out for your next candy purchase expedition. Some people can rate wines, but how many people can rate Hershey's kisses?
And for the record, that little piece of paper in every kiss? It's called a niggly-wiggly. Now you know.