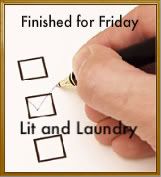 I can can kiss my children goodbye and send them to camp for a week. I can kiss my husband goodbye and watch him leave on all his business trips. But take my sewing machine into the shop and I have anxiety attacks. Here's what my sewing table looked like, a black hole: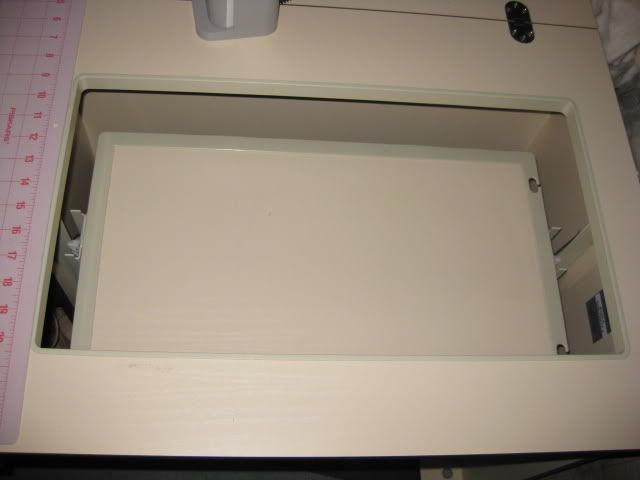 I had procrastinated doing this for so long that it was a full year overdue, so I'm very proud of myself that I finally bit the bullet and did it this week. Of course, the experience wasn't without drama.
I took my machine to
Eddie's Quilting Bee
. They were having a big sale and party and the place was packed. As I stepped up to the register with my beloved, Eddie came across the store to greet me warmly, because he remembers
how much money I always spend
my sparkling personality.
"Ah yes! How are you doing! Wait a minute, let's have a look at that" he said as a few customers lined up behind me with their purchases. He took the cover off and opened her up. "That's what I thought. You have a plastic hook. You're going to want to replace that with a metal hook. Works much better. It will be a whole new machine."
Did I mention Eddie is quite a salesman? I nervously eyed the backup that was increasing behind this sole register. The pressure was on to finish the transaction. And everyone was listening. What if the word got out that I had this inferior plastic hook? What if the word got out that I didn't keep my sewing machine up to date. I started to sweat. "How much is that?"
"$110." I tried not to gasp at the amount. Then rationalization brain kicked in. 1) I didn't take my machine in for servicing last year, and this is about what that would have cost. 2) This is my instrument of therapy, and I don't splurge on much of anything for myself. 3) Probably some other random thoughts popped in there, not the least of which that the backup in the line was at least a dozen shoppers now. I agreed to the upgrade and watched sadly as they took it to the back room.
Of course, I swore I would get a lot of non-machine sewing done. Applique a dozen blocks, baste some quilts. It didn't happen. I mourned. Finally the day came to pick it up.
" Ah yes, there you are. The hook." Eddie was all smiles. "This is a great machine. Did you know I could give you a trade-in of $700 if you'd like this nice machine here? I could give this one to you for. . ." At this point Eddie seemed to mull over a special deal just for me. After a pause he named an amount. Let's just say it was 4 figures. Did I mention Eddie is quite the salesman?
Do people actually just walk into a store to pick up a newly-tuned machine and trade it up like that? I wish I had that kind of money. I love how he was treating me like a Serious. Grown-up. Important Quilter. One for whom apparently money was no object when it came to their craft. Unfortunately, money is a bit of an object so I had to decline. Love ya Eddie, maybe next time.
So the overdue annual tune-up was my finished project for the week. What did you get done? If you've got any kind of finished project, please
link up with Mr. Linky below
link back to me

feel free to grab the button from my sidebar