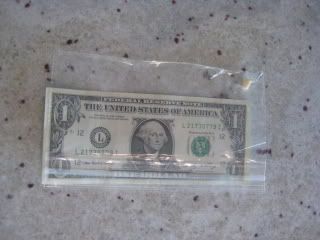 Of all the crazy traditions that enslave parents, probably my least favorite is the whole tooth fairy rigmarole. Sure, it was cute and simple when they were about 6, but now that they're pre-teens the whole process is nearly impossible.

First, the fact that I never seem to have a dollar in the house. Between "Can I get a snack after softball?" And "Can I have some money to buy this book?" I am usually without cash.

Then there is the whole sneaking into the room business. On any given day, their floors are either clean and neat or piled with "projects" - land mines that could trip up Indiana Jones.

But yesterday the tooth fairy got lucky. Drama Girl lost a tooth, put it in a baggie and forgot to put it under her pillow. How happy was the tooth fairy to see it there on the kitchen counter! The husband had a bill to slip underneath and voila! Mission accomplished.

This makes my Monday! To see other pleasures, join Cheryl over at Twinfatuation for Makes My Monday.