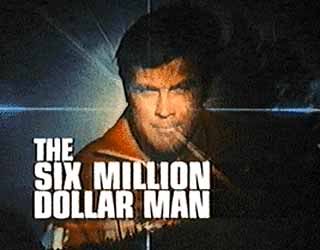 If you're from my era you recognize this line from "The Six-Million-Dollar Man" show. I thought the whole concept of bionics was fascinating. Replace body parts with something better. Little did I imagine I would face the decision to do this myself someday.

The date is now set for my hip replacement surgery. Out with the joint I was born with, in with new materials made out of I don't know what that just might outlast the rest of my body.

I have mixed feelings about it, and a bit of fear about the long-term. Artificial hips don't last forever, and I still have a lot of years left to live. My range of motion will be limited. And no jogging for the rest of my life.

But as the orthopedist so kindly pointed out to me, I have absolutely no options left. It's just bone on bone in there, grinding away and preventing me from walking easily across a room. Yes, it hurts as much as you think it does. I'll be glad to get rid of that whole pain thing.

So July 14 it is. New hip day. Time to make me better, stronger, and since I wobble at a snail's pace now, definitely faster. Wish me luck. And please tell me you remember that show too (and its spin-off, the Bionic Woman).